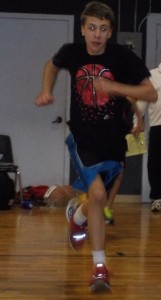 Could hardly believe what I saw last night. Who is this? Scrimmage game at basketball last night. Fierceness & focus, intensity, strength. Steal after steal, rebounds, lay ups, confidently handling the court, strategic passes to teammates for scores. In it with passion and clarity and focus. Team huddle, high fives and many pats on the back from fellow teammates (did I mention I could hardly believe what was happening?). This mama sitting alone on the bench. Well never alone-Jesus with me. And there was a person next to me. One who had no idea why I would be in tears and quietly saying "thank You Jesus, I am in AWE".
When it was over he simply, calmly, humbly walked off the court and to his mama, as if it was just another ordinary day. I asked him, "is it okay to give you a kiss right now?" Sure, he says. What a privilege to kiss this sweaty, most handsome face with prayers sent straight to heaven "Thank You Jesus". The same face I have had the privilege to kiss a zillion times before.
It isn't about pride. It truly isn't. It's about God's goodness. It's about a whole story. Of waiting. Waiting in the NICU to see if he would live for us to bring him home. Waiting for him to learn to eat, to communicate, to connect to every intricate detail of life. A life of surrender to what God would do in His time, and in His way. It's about a mother who KNEW, KNEW, KNEW and could see the strengths in my son. A mother whose heart was broken when I desperately yearned for someone to see these abilities I KNEW were there, but others didn't have the time, understanding, or ability to believe with me.
It's about grace. Me not expecting it from others. But me learning deeper grace for others. And me being saturated in His Holy Grace every single day. It's about fervent prayer, asking for wisdom, asking for so much, thanking Him over and over everyday for breath and life and His will be done. It's about trust. Believing in God and His sovereign rule over our lives with His love and care. It's about Him reminding me of His plan. It's about His Holy Will. I had surrendered and was at peace years ago, that Isaac may simply play ball at home sweet home. And that is good. I saw him shine. He was content to play ball this way. I was content in whatever God's plan. I truly was. It was about what God wanted to do. Believing He knows best.
This is a story of a God who takes little ones like this, and teaches us the most amazing lessons. Trusting God. Not man. Not circumstances. Seeing His provision as we WAIT, WAIT on Him. His timing, His way. Most IMPORTANTLY FOR HIS GLORY!
And as his coach reached his arm around him before we left he said: "You had some amazing rebounds tonight. Not because they were easy. You worked hard for those. GOOD THINGS HAPPEN WHEN YOU WORK HARD"
Working hard happens to be his favorite thing to do.
"But those who WAIT on the Lord
Shall renew their strength;
They shall mount up with wings like eagles,
They shall run and not be weary,
They shall walk and not faint." Is. 40:31
"Father forgive me for the moments I demanded my own way.  Gracious Father forgive me for the times I have not lived for your glory.  Thank You for Your grace and forgiveness.  Your kindness that leads me to repentance when my I do not honor you as I should. Thank You for pointing me to eternity.   Thank You for Your faithfulness that cleanses me over and over and helps me  to press on for You.    We all awoke with breath in our lungs because You made us able.  May I give You oh King of heaven the glory due Your name"
"Now to Him who is able to do exceedingly abundantly above all that we ask or think, according to the power that works in us,  to Him be glory in the church by Christ Jesus to all generations, forever and ever. Amen."  Eph. 3:20-21