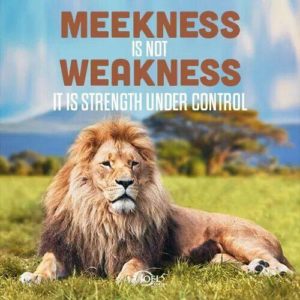 Isaac is a powerhouse on the basketball court. Everything with force, fiercely and passionately, which is amazing.  One night at practice, the coach instructed him to be "gentle" in those few seconds when making a shot near the basket.  He wasn't making many shots because his forcefulness in his body strength was too much.  He needed self-control, that came from the inside that would help him to overcome on the outside.   The power of God to help Isaac's mind switch gears to practice gentleness/meekness in those moments.  Over and over he practiced gentleness. Gaining self-control as he had to slow his pace inside himself and CHOOSE gentleness in this way.
Strength!
Isaac saw the result of gentleness, meekness, as he was able to make so many more baskets.  He experienced victory!
How awesome that what the coach taught him that night, would be an opportunity to point both the boys this morning to spiritual application and living each day.
First recognizing those times when we need to slow down the pace inside ourselves.  Isaac is filled with adrenaline.  And this is NOT an easy thing for him.  When he is in this mode, he is stuck there.  But none of us who belong to Jesus are stuck.  The same power that raised Jesus from the dead lives in us.  And the fruit of the Spirit are as we keep asking and praying for them are :
But the fruit of the Spirit is love, joy, peace, longsuffering, kindness,
goodness, faithfulness, gentleness, self-control. Gal. 5:22-23
 Isaac must have someone (his coach) remind him in those moments to pay attention to that energized feeling inside of him.  To point out what he cannot see at that moment.  With all his heart, mind and soul, he must work hard to slow down for those few moments to gently toss the ball to gain the victory!  After all God's greatest command is to love the Lord our God with all our heart, minds and souls….  this is how we show our love for God.
Jesus replied:  Love the Lord your God with all your heart and with all your soul and with all your mind. This is the first and greatest commandment.  Matt. 22:37-38
In everyday living, every human being often has energized emotions that arise inside of us.  And God will show us how and when to use these emotions in the right balance.  God always calls us to meekness and gentleness.  It's a goal in this Christian life.  It isn't easy.  And it isn't easy for Isaac on the basketball court.  It's REALLY hard.   It will take training, the coach repeating himself.  Giving kind reminders.  And it will require Isaac to have desire to submit to the coaches authority.  It will require Isaac to not give up.  It will require Isaac to desire to receive the instruction over and over again.
For our boys, in their walk with the Lord.  They are children.  Learning.
"Listen, my son, to your father's instruction and do not forsake your mother's teaching." Prov. 1:8
We all will need to desire with everything within us to go God's way.  Allow him to correct us, instruct us, help us, and teach us.  We will need God's reminders through His word everyday.  We are called to perseverance.  Jesus persevered for us, to save us from hell.  We can be energized with a grateful heart for what Jesus has done for us, so that we will want to say "thank you Jesus.  Now please give me the strength to persevere in obedience to you.  Thank you that you will forgive me when I fall, and that you will help me over and over again."
Isaac on Friday night, played his best game yet. He started out with a great balance.  HE was energized.  HE made 10 points for the team.  HE stole the ball and made many saves and was on fire.  He began to feel weary towards the end, and his energy inside him just got  stronger, he was no longer making as many shots.  He was driven with emotion that was overtaking him, and the coach instructed Isaac out on the floor… "Isaac you need to slow down just a bit".  Isaac received that correction humbly.  Knowing the coach is there to help him because he cares about Isaac, he is for him.  And so our God is for us!
How much God cares for all His children.  Nothing is too hard for God to help us with.  Even a brain affected by neurological challenges.  God created men to be hard workers for His glory.  And what better way for young boys to get that started then in working hard to the instruction of their Godly parents who love them with immeasurable love.  Parents who are working for the Lord, as they are assigned by God.  A God who LOVES with every instruction He gives, every correction, every discipline, and every encouraging word and deed.  A God who is faithful to complete His work.
It's a journey.  Isaac learning basketball, improving, becoming better, overcoming, seeing VICTORY. Our walk with the Lord is a journey, and as we look at it that way, perhaps we won't become so weary when there is more to do.  Jesus is simply preparing us for His kingdom forever.  So this journey of growing, learning, is a love gift from God.
"Dear friends, you always followed my instructions when I was with you. And now that I am away, it is even more important. Work hard to show the results of your salvation, obeying God with deep reverence and fear."  Phil. 2:12
Meekness (gentleness) is actually great strength, under God's control!
Power in gentleness! Meekness is not weakness! "
"…Thy gentleness has made me great" Ps. 18:35 Victory!
There is great blessing we are winners!
Blessed are the meek, for they will inherit the earth.  Matthew 5:5