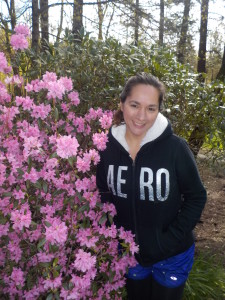 My husband, held the camera.  He was so thankful this past Saturday morning.  He was happy that I was well.  He took us out to a beautiful nature walk.  And he  wanted to take my picture by these beautiful pink flowers.  What you don't see is the ugly garbage can just to the left.  And that is important to remember in this story.
With so many opportunities to view media in many forms this day and age, I am wanting to be as real as I can about who I am.  I also, hope that others will remember that what we see on a screen is not everything.  Everything that we truly need to compare our lives to is included in the Book of Truth, the Holy Bible, Holy Scriptures, God's Holy Word.  We find real people, sinners.  Struggles.  Aching bones.  Aching hearts.  And yet JOY.   Not absence of pain.  Joy in the midst of pain because of the working power of the Holy Spirit who lives in those who have been captivated by the Gracious Love of the Savior.  Hope, promise, and victory, through every trial, every heartache, every pain.  This is real life.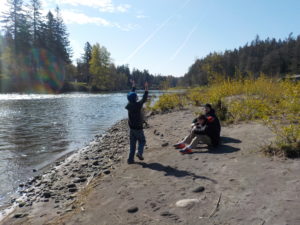 When I share pieces of my life on media, it comes from a place of gratitude to my Savior.  My life was in shambles real bad at one time.  And I didn't know how I would even go on and ever find joy. My heart overflows with JOY because of Christ ALONE and how He met me and has shown me that HE will give me everything I need through every step of this life.  My story is one of being delivered from the bondage of fear, praying for years for the longings and aches of my heart, pressing on through pain.  As well as answered prayers, God's holy presence through it all.  Experiencing the continued transforming work of the Spirit in the life of my family.  Because we all have desperately needed it.   We all still desperately need Him.
Behind this camera is a story of three very special guys to me.  As well as one extremely special God.  For two  days I was stricken with pain. Body that ached, and my physical strength gone. I was down.  In my place of rest, unable to do much, this  is where God shows me all He is actively doing.  Before my very eyes  I see more answered prayers manifest vividly in the lives of my children and beyond.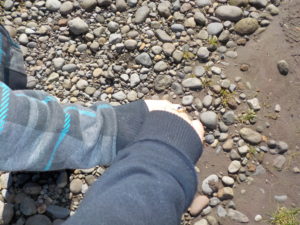 We continue to pray, and seek wisdom in bringing more days of healing for me, and  I am experiencing those.  As heart wrenching and painful are the difficulties of life,  it is through these times we have drawn closer to the Lord and been strengthened to new life, again and again.
"Not only so, but we also glory in our sufferings, because we know that suffering produces perseverance;  perseverance, character; and character, hope.  And hope does not put us to shame, because God's love has been poured out into our hearts through the Holy Spirit, who has been given to us."  Romans 5:3-5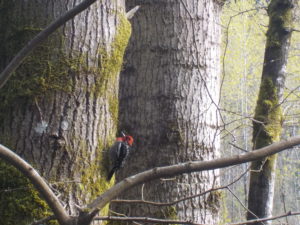 And awakening this beautiful morning with a break from the literal grey skies and rain, and seeing the sun.  I sat outside with my blanket soaking in the Lord and His Word.  He blessing me with the words of the Psalmist in his days of yes, "aching bones" he looked up and pressed on in the promises of God.
And this word:
Arise, shine;
For your light has come!
And the glory of the Lord is risen upon you.
For behold, the darkness shall cover the earth,
And deep darkness the people;
But the Lord will arise over you,
And His glory will be seen upon you.
Isaiah 60:1-2
So just as the trash can that you cannot see beside this picture, that isn't so pretty to be included.  Let us not forget, the truth.  Life is hard.  And everything isn't included in your friend's media postings.  And it shouldn't be.  "whatever is true, whatever is noble, whatever is right, whatever is pure, whatever is lovely, whatever is admirable–if anything is excellent or praiseworthy–think about such things.. and the peace of God will be with you."  Phil. 4:8-9
But I also appreciate the ways in which God will use my pain and trials to give Him the glory due His name!  He is my OVERCOMER!  "whatever you do, do all for the glory of God"  1 Cor. 10:31
Jesus is the answer.  And in spite of pain, we can have a life of joy when we belong to and place our trust in the Savior.  Even in our bleakest of circumstances as Christians we have this promise:
 'He will wipe every tear from their eyes. There will be no more death' or mourning or crying or pain, for the old order of things has passed away."  Rev. 21:4
Not only did my husband and sons celebrate on this Saturday that I had been lifted up again.  Later that day we celebrated another life.  I was so thankful to be present to celebrate a birthday of a very special little girl.  She who has life in the Savior and new life with a healed lung as God's breath anew in her.  Not only did we celebrate on Saturday, but Sunday.  Sunday celebrating JESUS is ALIVE – Resurrection Day!  It is because of the finished work of the cross and the resurrection of Jesus Christ that sinners can be saved and have victorious life!  IF we chose to repent, acknowledge HE is God, we are not, and ask Him to rule and reign our lives as we  follow Him all the days of our lives.
Each day I awake I ask my boys, why are you here today?  Who gave you breath again?
"The Spirit of God has made me;  the breath of the Almighty gives me life."  Job 33:4
I have a special way in which God made me appreciate His breath.  Again through trial, God drew me closer.   "Life is a vapor".  I witnessed through the birth of our firstborn son slipping away inside the womb, no breath in his lungs when entering this world, sustained by the mind of God given to man, through a machine to pump air for him, in the NICU on a ventilator God breathed life again.
Another day, and another day to acknowledge that HE is God and we need more of Him!
And on Saturday  was another day to LAUGH!   My husband's energy has always given a spark to my life.  I see him being that for our Isaac and our whole family.  One photo that will not be shared.  My husband coaxing Isaac our 13 year old, to stop and smell the flowers together for the purpose of a REALLY hilarious picture.  This will be for us to keep for our memories.
May we remember the truth every day found on the pages of scripture.  Life!  Life that is hard because of sin for all mankind.  Life that can be victorious all because of the risen LIFE of the Savior!
You have turned my mourning into dancing for me…that my soul may sing praise to You and not be silent.  O Lord my God, I will give thanks to You forever.  Psalms 30:11-12