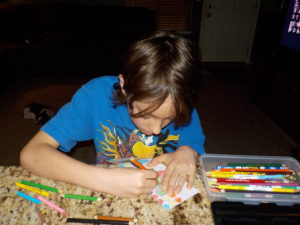 It's 8:30 am and What a JOY to see him at work in the FLOW of life, in the unique way God made him. Today he was so excited to show me his artwork and the colorful patterns he put together. In his happy place. And so am I as I get to tell him how much I love this, and even more a kiss on the head to say "I LOVE YOU".
Learning is life and what a joy to be in these moments seeing him shine. As this plays:
"Holy Spirit, You are welcome here
Come flood this place and fill the atmosphere
Your glory, God, is what our hearts long for
To be overcome by Your presence, Lord..Let us become more aware of Your presence…" I thank GOD.