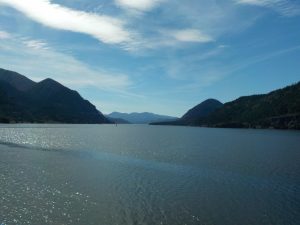 Two years ago Joe and the boys discovered this place.  It's a bit of a journey to get there.  A somewhat  dark tunnel with creek waters running through.  Up a steep embankment with some crumbly but not dangerous rocks, a lengthy walk onward, down a very rugged somewhat steep embankment to a cliff and a perfect pad of rock just the right size for our family to bask in the beauty of God's creation.  All to ourselves.  Well except for  some fish, crawdads, dragonflies, ducks, geese, but never another human ever to be seen.  Joe mentioned yesterday when we arrived there for our first journey of the summer heat – (pushing 100 degrees), "think about it.   When God created the world, and this VERY spot, he was thinking of us.  And knew this would be a place He would take us to, and that our family would rejoice in.  A gift from the Father."
The only tricky part of this whole thing… is me and anxiety.  I've gone here before.  I've made it.  But it hasn't been easy at all.   Something about that dim tunnel, just gets me every time.  And the terrain it's a bit rugged, it does tire me.  This time.  I wanted this to be different . Rather than pushing through and getting it done with my teeth clenched, I desperately desired with all my heart for God to do a work so holy to make me peaceful in this whole process.
In His word He spoke to me.  One important reminder stuck out.  FEED on His FAITHFULNESS.  He has been so faithful to me.  Even in my darkest moments of living.  So feed on it.  Feed my mind with thoughts, and truths of how faithful He is – He goes before me.  He surrounds with angels, He is with me in darkness….
I arrived at the the tunnel yesterday, and I paused, snuck away into a private place for a moment to pray, as the anxiety was coming fiercely.  "Lord you say delight myself in YOU and You will give me the desires of my heart.  I want to go on this journey with my family.  The desire of my heart is I go on this journey in peace."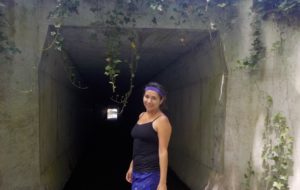 I walked into the tunnel and I had peace.  Peace when I focused on the LIGHT at the end.  Truly that light ahead, and focusing simply on that – made all THE difference!!!   "…that you may declare the praises of him who called you out of darkness into his wonderful light."  1 Peter 2:9.   No turning to the right or the left to see potential creepy things.  Not looking down to consider or think about what could be underneath me.  Believing His angels that go before and behind were literally there.  As well as the gift of my husband's hand to hold.  That intentional focus on the light truly saved me.  And gave me peace that I have never experienced when walking through this dark place.
I then had to tackle some rugged terrain.  But what I found was key to moving through it, and not tiring, or depleting, or wearing out, was my pace!  My guys were patient in my step by step moves.  I paused as I needed, took in some extra breaths and rest along the way.  A steady, yet slower pace, resting along the way.  Keeping my eyes on the reward.  How pertinent to our walk with the Savior.  So patient in our process, giving us time.  As we persevere on, learning to rest in Him, on the journey to eternity forever.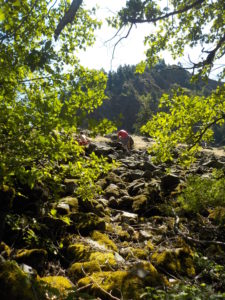 We made it again to this beautiful place .  This time, was the most beautiful of all times.  For this truly was the LORD – all the LORD!  Giving me the desire of my heart.  Trusting in Him.  Faithful to His Word.  Peace.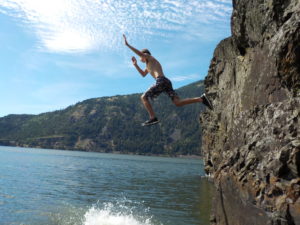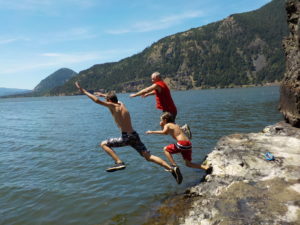 The guys had named this place the SECRET SPOT.  However, they were in agreement to rename it, THE SECRET PLACE.  AS I read pieces of Psalms 91
He who dwells in the SECRET PLACE of the Most High
Shall abide under the shadow of the Almighty.
 I will say of the Lord, He is my refuge and my fortress;
My God, in Him I will trust…
He shall cover you with His feathers,
And under His wings you shall take refuge…
You shall not be afraid of the terror by night,
Nor of the arrow that flies by day,
 Nor of the pestilence that walks in darkness...
 Because you have made the Lord, who is my refuge,
Even the Most High, your dwelling place,
 No evil shall befall you,
Nor shall any plague come near your dwelling;
 For He shall give His angels charge over you,
To keep you in all your ways.
"Because he has set his love upon Me, therefore I will deliver him;
I will set him on high, because he has known My name.
 He shall call upon Me, and I will answer him;
I will be with him in trouble;
I will deliver him and honor him.
With long life I will satisfy him,
And show him My salvation."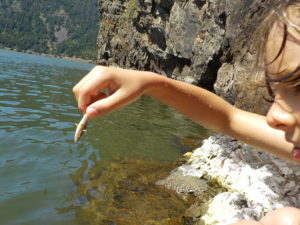 Focus on  Jesus – the LIGHT – He saves! Out of darkness of my sin, He saved me.  In the daily journey with Him, He saves me!    Pace myself with rest along the journey.   "he gives rest to the weary"  Isaiah 40:29 .  Take it step by step.  Each step is one more step toward the reward.  Receive the peace of the Savior.  Through His ever faithful every WORD.
And now… I pray…
"May the God of hope fill you with all joy and peace as you trust in him, so that you may overflow with hope by the power of the Holy Spirit"  Romans 15:13