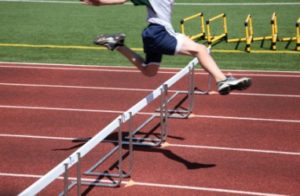 THE NEED IS GREAT.
"and my God will supply ALL YOUR NEED…"  Phil. 4:19
I look at the challenging circumstances of life.  The life of motherhood as well as the other many all encompassing issues of life, and I often see a gigantic obstacle course, full of hurdles.  Massive hurdles going every direction.  One after another after another.
THE NEED IS GREAT.  To discern the attitudes of the heart.*   To decipher between an attitude of the heart and what is not an issue of the heart.   The need for coping skills, a new strategy to overcome, methods, direction,  ways to aide in helping make one's life thrive well for the glory of God.  Leading the way to help him, operate best, to flow in a manner that brings God glory, within the dynamics of  the intricate  neurological way in which one's mind ticks.  This is a great challenge for me.
Every challenge I have ever faced in my life, has been the catalyst to draw me nearer to abiding in God's Word.   Nearer to seeking Him in prayer.  Minute by minute and morning, noon, night. As I look to the obstacle "course" of life, rather than fear, in HOW?  I can rejoice that this will indeed make me stronger.  Abiding in the presence of Jesus always makes us strong.   Who wants to be strong?  I do!
" Let us then approach God's throne of grace with confidence, so
that we may receive mercy and find grace to help us in our time of
NEED"
Hebrews 4:16
It seems I often face at least 100 hurdles in a day.  I have leaped over one, I rejoice!  I have leaped over another one, I rejoice!  Often the next one is right in front of me almost simultaneously.  I have rejoiced and then I feel the energy has gone out of me, drained, and unprepared – HOW?
Humility.  I confess, in the moment on the spot in the moment of the NEED, I am WEAK Oh Lord.  And simultaneously, in confidence, I confess in thanksgiving, and claim His promise.  I thank You Lord for Your promise, YOUR GRACE IS SUFFICIENT FOR ME.  YOUR POWER IS MADE PERFECT IN WEAKNESS.**  How Lord do I proceed at this very moment? And yet, confident that HE is truly there and ready to supply.  The wisdom is given.***  I have been given the promise of His strength, I jump the hurdle, I rejoice again!
When mental, emotional, physical exhaustion come after the hurdle is jumped… AGAIN
It is time again to ask for wisdom.  IS THIS AN ATTITUDE OF THE HEART?  IS THIS a NEED for a STRATEGIC TOOL, PLAN, HELP, AIDE, COPING SKILL, REDIRECTION?  With my attitude confident in His mercy and grace, as I come boldly again and again and again, into His throne room.  Often right there on the spot before I would lose patience, in the middle of doing dishes, in the middle of communication that I do not understand, confessing I AM WEAK, BUT I REJOICE BECAUSE YOU PROMISE THAT YOUR GRACE IS SUFFICIENT FOR ME, YOUR POWER IS MADE PERFECT IN WEAKNESS.
He provides!   And again, I REJOICE IN HIS POWER TO SUPPLY THIS NEED!
It's HOW I truly live.  My sinner's heart is prone to wander.  Fear, need for assurance, approval of men, security (need to know everything is going to be okay) in an instant can consume and overwhelm me when I look at the weaving of hurdles so massive all around and before.  These needs when in desperation are attempted to be met apart from Christ, are idols.  God is jealous for my heart.  All of me!  He provides my need for forgiveness,  as I repent, again when I have turned elsewhere and His word draws me back to Him.  I abide in Him, HE SUPPLIES ALL MY NEED.  He wants me.  He needs nothing from me.  He is my need.  I am filled by Him, and FREE by the power of HIS love to give, give, give, and give some more, as the vessel emptied again, of me, to work through to meet the needs.
God has me look behind.  Only to remember.  The hurdle a few minutes ago that He gave strength again to overcome.  The hurdles 5, 10, 15, years ago.  The abundance.  Remembering every prayer  brought into His throne room, and the mercy and grace He has lavished on me in my time of need.  Remember the men and women, of times past.  Moses, Gideon, so many.  In weakness of men, and in faithfulness of God, overcame massive hurdles.  Parting of a sea,  journey through a long parched dessert, overcoming giants.  He provided all their needs.  HE is the same, yesterday, today, and forever.
I look to the cross.  Where I am reminded of the great love and power that overcame for me.  Not keeping my eyes fixed here,  on what I see here and now in the hurdle after hurdle, but ultimately the cross, and fixing on the joy of what is NOT seen, in the beautiful, eternal purposes God is working out as we press on. ****
 "So we fix our eyes not on what is seen, but on what is unseen, since what is seen is temporary, but what is unseen is eternal."  2 Cor. 4:18

His great love that adopted me,  just because He wanted to.  Not because of anything I have done, or earned, gives me so much strength.  Chosen, approved, accepted, loved, and secure.  No matter how crazy, or messy the obstacle "course" of life appears, whether it be in motherhood, or any issue of life, along with all that encompasses my walk in this world, and the challenges I face as it grows darker day by day,  His love motivates me.  Yes, MOTIVATES, energizes, me…
to:
LOVE DEEPER
STAND FIRMER on HIS EVERY WORD
RELY ON HIM, HIM, HIM, CHRIST ALONE more FULLY
I am always brought to new tears, when God rids me of myself, and causes me to comprehend a new level of HIS GREAT LOVE he has for me.  I pray you too, have experienced the great love of the Father.  He is jealously yearning for all your heart.
"See what great love the Father has lavished on us, that we should be called children of God!"
1 Jn. 3:1
This great love He has lavished is through the gift of His son.
"For God so loved the world that he gave his one and only Son, that whoever believes in him shall not perish but have eternal life."  Jn. 3:16
"Repent, then, and TURN TO GOD, so that your sins may be wiped out, that times of refreshing may come from the Lord…"  Acts 3:19
*  For the word of God is living and powerful, and sharper than any two-edged sword, piercing even to the division of soul and spirit, and of joints and marrow, and is a discerner of the thoughts and intents of the heart.  Heb 4:12
**But he said to me, "My grace is sufficient for you, for my power is made perfect in weakness." Therefore I will boast all the more gladly about my weaknesses, so that Christ's power may rest on me.  That is why, for Christ's sake, I delight in weaknesses, in insults, in hardships,in persecutions, in difficulties. For when I am weak, then I am strong.  2 Cor. 12:9-10
***If any of you lacks wisdom, you should ask God, who gives generously to all without finding fault, and it will be given to you. 6 But when you ask, you must believe and not doubt, because the one who doubts is like a wave of the sea, blown and tossed by the wind.  James 1:5-6
****So we fix our eyes not on what is seen, but on what is unseen, since what is seen is temporary, but what is unseen is eternal.  2 Cor. 4:18