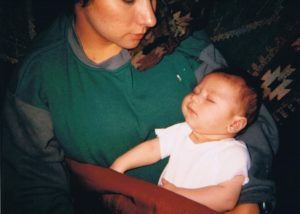 Count down is on to celebrating this special day – August 29, 2002.  14 years ago the countdown was on. Eagerly anticipating the arrival of our much prayed for, long awaited firstborn son. We had plans. Oh yes, we did. Of course labor and delivery has it's unknowns. We never expected it to unravel this way. We attended all those classes in preparation. Planned for varying scenarios.
And guess what God taught us straight from the start???!!!! We can make plans, but the LORD directs our steps.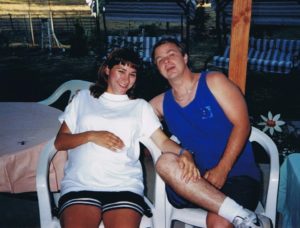 Not one of those hours of planning out strategies through our labor and delivery classes were used for the arrival of our baby boy.   Not one thing went according to our plan.  I never went into labor. He felt lifeless inside of me. By God's grace we made it to the hospital to have the team of white coats, race me down the hall in an emergency, in hopes to save our son.
God took us down a path so different from what we would have ever imagined.   Many times on this journey  I attempted to plan out a way, each time God took me to submission and surrender.  From the stay in the NICU, to every day after.  Calling me to rely on Him minute by minute.   This life would be lived daily by His plan. I could not unravel the intricate ways in which our son's brain ticked from stroke. Every time I made a plan, it crumbled. God literally had me praying minute by minute, relying on Him for every aspect of our daily living in communication, schooling, relationship. Growing, learning, coping ,surrendering, in the moment with the Savior.
Why are we RICHER? This song came on in the car today, as I ran errands in preparation of his 14th birthday party.  Fix my eyes. This is why we are richer:
Live life for another
Take time for a brother
Fight for the weak ones
Speak out for freedom
Find faith in the battle
Stand tall but above it all
Fix my eyes on you, on you
But the road less traveled is hard to walk
It takes a soldier
Who knows his orders
To walk the walk I'm supposed to walk
The things of Earth are dimming
In the light of Your glory and grace
I'll set my sights upon Heaven
I'm fixing my eyes on you, on you…
FIX MY EYES! This journey has caused our family to FIX OUR EYES MORE FULLY on JESUS. Minute by minute, day by day. Year by year. We've experienced God in greater measure. Looking to Jesus. (Heb. 12:2)
We are called to:
* Abide in Him…. (apart from Him we can do nothing – Jn. 15:5)
* Not be conformed to the patterns of this world – our son would not be measured by man in any way shape or form. We would learn to not force him into a mold he did not belong- (Rom. 12:2)
* Trust in the Lord and not our own understanding (Prov. 3:5-6)
* Acknowledge Him and believe Him to direct our path (Prov. 3:5-6)
* Believe His every Word for strength for our life (Ps. 119:28)
* Submit our plans to the Lord (Psalm 16:9)
* Die to ourselves and live for Christ (Matthew 16:24-25)
* LOVE (1 Cor. 13)
* Persevere – believing the promise it produces eternal character (Rom. 5:4)
* Fight for the weak ones (82:3)
* Set our minds on things above not the things of the earth (Col. 3:2-3)
* Walk by faith not by sight (2 Cor. 5:7)
* Greater faith , along with believing in His Reward (Heb. 11:6)
* Walk the way we are called to walk with Christ Jesus – strengthened & in thankfulness (Col. 2:6-7)
* Trust in the Lord, not man – no matter what – believe the promise of blessing  (Jer. 17:5-9)
* Believe that in weakness God promises POWER made PERFECT (2 Cor. 12:9-10)
* Believe the wisdom of this world is foolishness to God (1 Cor. 3:19)
* Take every thought captive in order to obey Christ (2 Cor. 10:5)
* Rejoice, pray without ceasing, give thanks in all circumstances (1 Thess. 5:16-18)
* Believe in the Love of Christ that brings FREEDOM from the lies – (2 Cor. 3:17)
* Store up treasures in heaven (Matthew 6:20)
AND SO MUCH MORE….
Let us pray:
"For this reason I kneel before the Father, from whom every family in heaven and on earth derives its name. I pray that out of his glorious riches he may strengthen you with power through his Spirit in your inner being, so that Christ may dwell in your hearts through faith. And I pray that you, being rooted and established in love, may have power, together with all the Lord's holy people, to grasp how wide and long and high and deep is the love of Christ, and to know this love that surpasses knowledge—that you may be filled to the measure of all the fullness of God. Now to him who is able to do immeasurably more than all we ask or imagine, according to his power that is at work within us, to him be glory in the church and in Christ Jesus throughout all generations, for ever and ever! Amen." Eph. 3:14-21
"Do you not know that those who run in a race all run, but one receives the prize? Run in such a way that you may obtain it. And everyone who competes for the prize is temperate in all things. Now they do it to obtain a perishable crown, but we for an imperishable crown. Therefore I run thus: not with uncertainty. Thus I fight…" 1 Cor. 9:24-25
Living for the Imperishable Crown – Rich Reward – Jesus Forever