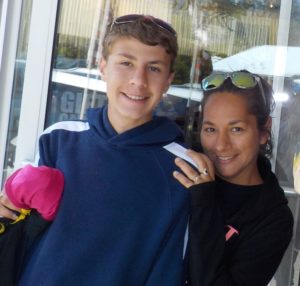 Who is Isaac?  I have referred to him as a Pediatric Stroke Survivor.  He has survived.  Today, he wants to share who he is.   He will be 14 in a few days.  As I asked him questions.  I truly did not know what to expect his answers would be.  Communication like this can be challenging.  The joy of being his mother, is God has taught me how to pray through communication with him, in order to draw out what God has put inside.  I am BLESSED by his answers.  In fact, they came pretty quickly.
I marveled that Stroke survivor is not a thought in his mind to who he is.  We've discussed stroke many times over.  We've talked through his challenges due to stroke.  He gladly wanted to share this with you.   In hopes, it may bless someone.  Just really wants to do what he believes God would want him to do.  Share for His purposes and glory.
1) Isaac tell me about yourself – who are you?
ISAAC:  I am a Christian
2).  Who loves you?
ISAAC:  God.  You, mom.  And Dad.  Max..  (Little brother)
3). Who is most important to you?
ISAAC:  God, Mom, Dad, Max, Harry (our dog)
4.) What kind of person are you?
ISAAC:  Kind, helpful, hard working (very true)
5.) What is your favorite color?
ISAAC:  Blue
6.) What are your favorite things to do?
ISAAC:  Karate, basketball, building Legos, video games, spending time with my family
As a mother, this truly blesses me.  As I asked him two last  questions.
7). Have you ever been through anything difficult? ( He had to think really hard to come up with something because we have fixed our minds on all he can do. As well as he doesn't know anything different than working REALLY hard.  Life has not come easy for him.  In fact, the neuropsychologist said he had never seen such slow processing-the scores were shocking).  Isaac just sees the ability – because Jesus is our ability – and He is Who we focus on – Eph 3:20-21).
Then he remembered the brutal frustrations and intense emotions so hard to control for a long season   "THAT was difficult" he said.
8.)  Do I struggle?  Does dad struggle?  Does your brother struggle?
ISAAC:  YES.
We've been honest with our son.  He had a stroke.  He survived.  Praise be to our Lord and Savior!    He will have to work REALLY hard in his life to make things happen.  What an example we should all follow in our walk with Jesus.   Working hard each day.  We've also been honest about our own struggles in this family – whether it  be a sin, a fear, a habit, my own personal physical pain in need of healing, and more.
God and family.  At the top of his heart and mind.  I thank God for this.  We are a family in need.   Every single one of us in our own way.  Helping, praying, encouraging, each other through this life.  Overcoming.  When we are weak, Jesus is strong!
I press on toward the goal to win the prize for which God has called me heavenward in Christ Jesus
Phil. 3:14