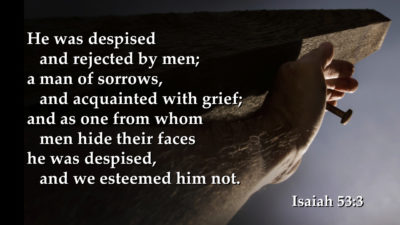 I have struggled to find victory by the rejection of others in my life. Whether it be real, imagined, or just plain old the enemy. Sometimes people like me. Sometimes people don't like me at all…Sometimes they like me for a season, then they don't anymore. And sometimes this comes from others who I would have never expected it to come from. I am called to love.
I am called to NOT depend on the words of men. But the WORDS OF MY HEAVENLY FATHER. We are called to build each other up in the body of Christ.. yes! Encourage one another. Reconcile. Pursue peace… but our dependency must be on CHRIST ALONE in FAITH AND TRUST IN HIM. The Lord has actually made me realize recently I have been victorious. Just because I hurt, and wrestle momentarily, doesn't mean I don't have victory. Quite the contrary, because that wrestle is the VERY Spirit of God Himself in me, ridding my flesh, making me die to myself and resurrecting me to a new and better life-victory. I choose forgiveness every single time.
And I thank my God for forgiveness. I thank my God for showing me my ugly flesh when it is wrestling, and His GRACIOUS Spirit that conquers all. Over and over again. Be imitators of Christ and walk in love… I used to think that if I tried so hard to love and someone then looked on me badly that I had failed.
You know what the Lord reminded me of… He was rejected, despised, and HE loved perfectly. Even the SACRED Christmas Child is Born Savior … quickly rejection came – with King Herod hoping to destroy. And He still is today by many. Jesus Christ the Savior. He was loved by some and hated by others. The perfect One.
I thank my Savior, for coming, going to the cross for my rejection, shame, hurt pain… enduring more than I ever will in this life- for me. I thank Him for the reminder of who I am… Jesus now in me (more than I can even grasp), I am ACCEPTED by Him.. forever and ever. He understands, He empathizes, He knows…
and HE says "walk worthy of the calling…" Worthy. I have struggled with this worthy word. Even others in the bible saying "I am not worthy to…etc.." I asked him recently…. "Lord, I know I still yet sin, and so far from perfect… how can I feel worthy, when others see my shortcomings?" When the eyes of men may reject, and call me unworthy that is only the lie of the enemy.
He has TOLD ME TO WALK WORTHY! So I must obey even that. Humbly, receiving this gift. I am WORTHY right where I am at…all because of the precious, gracious BLOOD OF THE LAMB – WORTHY IS THE LAMB Who was SLAIN…making me a child of the King covered in His love. Walk worthy of the calling with all lowliness of mind. "
"Walk worthy of your calling..be completely humble and gentle; be patient, bearing with one another in love." Eph. 4:1-2. May He give me gracious ability to be gentle, patient and bear with others in love. I must die to myself… and I know as I seek Him, He will be faithful to complete His work in me.
God's love that looks upon me, though I still am not perfected… He sees Jesus' perfection in me. How can this be? That is true love. Remembering I am ACCEPTED by the ONE that truly matters, enables me to go further in loving others. This is the SAVIOR… suffered for every sin I have ever committed, as well as those committed upon me… he suffered, taking it all upon the cross – the King of Heaven!! – I am free to walk in His Love. "being confident of this very thing… He Who has begun a good work, will be faithful to complete it" Phil. 1:6 VICTORY!!!
 "to the praise of the glory of His grace, by which He made us accepted in the Beloved."  Eph. 1:6