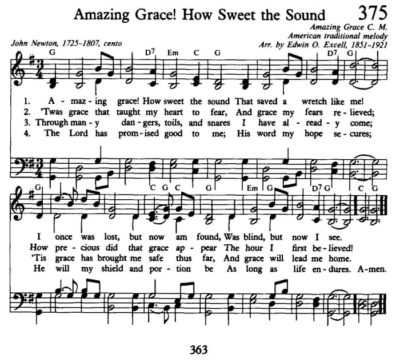 What a sweet time to be recently using music as our base for schooling.  The other day the Lord put upon my heart to use music, as I was seeking Him for the plans for the day.  I was cooking breakfast and listening to the radio when a song called Giants Fall came on.  The words just jumped out so vividly and loudly.  You know sometimes when you go along and hum and sing, and then other times when the WORDS are like shouting at you so specifically and intentionally… yes… it was that kind of moment.  I knew this was the direction for our day.
I printed the lyrics.  Planned out some scriptures.  And away we went.  The boys circled words and phrases and wrote out definitions and meanings for our vocabulary and comprehension focus.  Also applied scripture to those phrases to show this was indeed truth we were reflecting on and singing about.  This particular song and study really hit home for specific challenges we had been facing recently.  So very blessed.
Don't you be afraid
Of giants in your way
With God you know that anything's possible
So step into the fight
He's right there by your side
The stones inside your hand might be too small
But watch the giants fall
We could really live like this
Can't you imagine it
So bold, so brave
With childlike faith
Miracles could happen
Mountains would start moving
So whatever you may face
Ask and believe
You're gonna see
The hand of God in every little thing….
Then this  morning I awoke thinking about more song lyrics to print and use as a study base.  Amazing Grace came to my mind.
This  wonderful story I was able to read to the boys:
A little boy back in 1725 born in England.  His mother's passion to teach him the scriptures as well as academics.  Her deepest heart's desire for her son to have a relationship with the Lord Jesus Christ – for him to understand the cruel world out there and the great need of a Savior.  She only had 7 years to train him.  As she became ill and passed away. The simple seed was indeed planted.  And though he would grow up, and "forget" and leave behind all that he had been taught, go his own way… God would keep pursuing him over and over.  This little boy who grew to be a rebellious, severely hardened and cruel man himself, one day would be awaken again by God.  In a moment on a ship ready to go under, He cried out to the Lord for mercy.  Surprising himself of what he just said.  The Lord did indeed save him and through this experience John Newton repented, and received the gracious gift of life from the Savior.
Through trial and a desperate need for still much purging of himself, he eventually became a preacher and wrote Amazing Grace to share with his congregation one Sunday.  After his death it would be made into a formal song.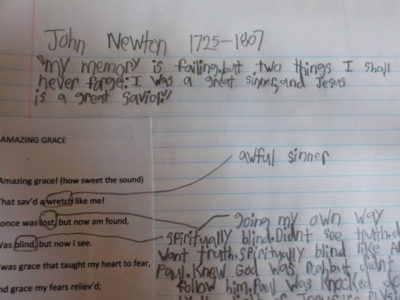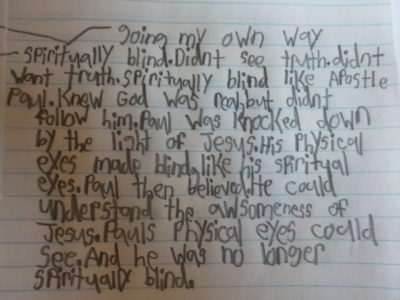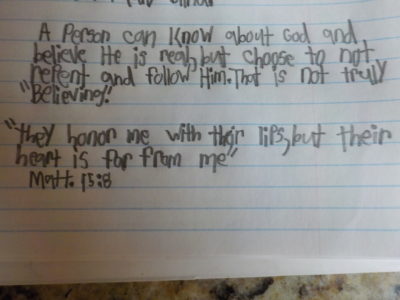 Here is the link to the full children's story version:  http://www.christianity.com/church/church-history/church-history-for-kids/john-newton-gods-amazing-grace-11635046.html
Here in the sweetness of our humble home, I was able to pull out this song, cover rich history, introduce new words, and powerful biblical truth.  Using the life of a little boy that started out much like our boys' lives.  Being taught the scriptures as the most important element in their lives.  A mother with a heart's desire for God's best for her son.  How special for them to connect in knowing the same passion I have as the mother in that story, for them to see the pull of the world, that can draw one away.  The unrelenting love and faithfulness of God to pursue.  The power of the Word planted in this life.  The power of the Word they know is being planted in their life.  And the need to press on towards Jesus, and not turn and go our own way.
Brought in scriptures and  biblical comparisons to Jonah and the big fish. As well as the story of Paul and his spiritual blindness, then physical blindness then both being transformed – his physical and spiritual  "EYES CAN SEE".
I do consider the verse in James that says: "life is a vapor".   Some major events in my life when I was very young as well as the birth of our firstborn and his life almost cut short after coming into the world limp and on a ventilator, God has used to imprint on me the vital role and great importance of seizing the day, moment by moment to teach my babies about Jesus.
Tonight, when "dad" was home from work, the boys told the story of John Newton.  Maximus starting it out, and Isaac coming in to fill in the pieces he remembered, and then back again.  I was so blessed how much they both retained.  Not so long ago, Isaac in particular would have struggled to recall, get the words out, and cover something this in depth.
I am in awe everyday, through it all of His Amazing Grace.  I regularly tell the Lord, that being a mother to these boys is beyond my capability in my own strength, but I know they were given to me, so I know He will be faithful to equip me, and make me able.  I seriously rejoice day after day how God makes me able.  His grace sufficient for me.  Truly.  Truly.  Truly.
I told my husband tonight.  "this is so much fun.  The joy is just inexpressible for me.  I am so thankful how God gives me what I need in this journey.  He just keeps doing it".
Which leads me again to reflecting on this powerful verse of truth and promise… I WILL….
"I will lead the blind by ways they have not known, along unfamiliar paths I will guide them; I will turn the darkness into light before them and make the rough places smooth. These are the things I will do; I will not forsake them."  Is. 42:16  AMEN. AMEN. AMEN. AMEN.  Glory Hallelujah AMEN!!!!!!!
The gift of music.  This week that's the path God has taken us.  Through music, the words, the purpose, the meaning, the spiritual application, the history, the vocabulary,  we have learned so very much.  "growing in the grace and knowledge of our Lord and Savior."  2 Peter 3:18
Some of the last words as John Newton's health and memory was fading away left stamped in history are the most powerful of words to leave as a legacy and reminder to us all:
"Although my memory's fading, I remember two things very clearly: I am a great sinner and Christ is a great Savior."  John Newton
And how SWEET the sound… to study and sing together!!