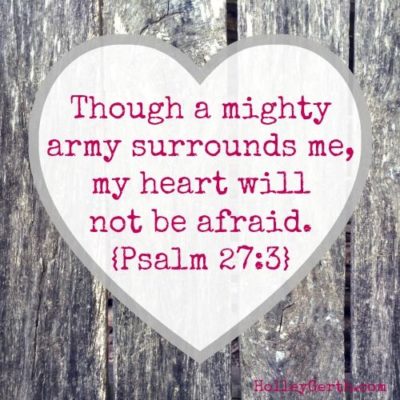 I love the Psalms.  Through a scary, lonely, and very long season Psalm 27 sure was a gift.  The depths of my emotional pain and very similar in descriptive life experience, the Lord was definitely empathizing with me, identifying with me in fears, situations, desperate pains.  I received God's comfort  in the midst of the turmoil, fear, loneliness, slander, defamation,  loss, and more.
I was encouraged in the midst of what was happening all around and within him, the Psalmist wrote this Exuberant Declaration of Faith.  It became mine.
Desperately desiring the Lord teach me and " lead me in the smooth path".
In this time.  The Psalmist sought more of the presence of Christ alone.  Even though the nearest and dearest might abandon him, his Lord would always be concerned about and care for him.
From sorrow to praise.  Persecution to praise.  Warfare to praise.  As the Psalmist went, so did I. What a beautiful example God has given- as well as empathize, encourage, strengthen and give hope to each of us.
Verse 6 is one I held onto tightly.  "my head shall be lifted up…I will sing praises to the Lord…" as well as verse 13.  "I would have lost heart…unless I had believed…"  Encouraging me that the Psalmist did not lose heart, and neither should I.  I must continue to believe the "the Lord will take care of me".  (verse 10).
I pray that as this Psalm has blessed me so richly and carried me in some of my scariest and most lonely of days, that it will be an encouragement to you.
I praise the Lord for He has indeed "set me on a high rock" (verse 5) and "now my head has
been lifted up.."  I sing.  I sing.  I sing.  He has heard my cries.  I sought His face… He has been my help.
An Exuberant Declaration of Faith –A Psalm of David.
1 The Lord is my light and my salvation;
Whom shall I fear?
The Lord is the strength of my life;
Of whom shall I be afraid?
2 When the wicked came against me
To eat up my flesh,
My enemies and foes,
They stumbled and fell.
3 Though an army may encamp against me,
My heart shall not fear;
Though war may rise against me,
In this I will be confident.
4 One thing I have desired of the Lord,
That will I seek:
That I may dwell in the house of the Lord
All the days of my life,
To behold the beauty of the Lord,
And to inquire in His temple.
5 For in the time of trouble
He shall hide me in His pavilion;
In the secret place of His tabernacle
He shall hide me;
He shall set me high upon a rock.
6 And now my head shall be lifted up above my enemies all around me;
Therefore I will offer sacrifices of joy in His tabernacle;
I will sing, yes, I will sing praises to the Lord.
7 Hear, O Lord, when I cry with my voice!
Have mercy also upon me, and answer me.
8 When You said, "Seek My face,"
My heart said to You, "Your face, Lord, I will seek."
9 Do not hide Your face from me;
Do not turn Your servant away in anger;
You have been my help;
Do not leave me nor forsake me,
O God of my salvation.
10 When my father and my mother forsake me,
Then the Lord will take care of me.
11 Teach me Your way, O Lord,
And lead me in a smooth path, because of my enemies.
12 Do not deliver me to the will of my adversaries;
For false witnesses have risen against me,
And such as breathe out violence.
13 I would have lost heart, unless I had believed
That I would see the goodness of the Lord
In the land of the living.
14 Wait on the Lord;
Be of good courage,
And He shall strengthen your heart;
Wait, I say, on the Lord!