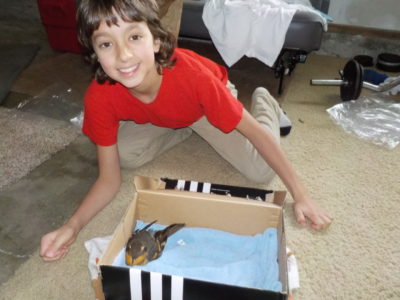 "But ask the animals, and they will teach you,  or the birds in the sky, and they will tell you… In His hand is the life of every creature and the breath of all mankind."  (Job 12:27-19)
A little bird in need of rescue. Dirty. Scared. All alone. Broken. In the middle of a street of chaos. I reached out my hand to protect, as I stopped the traffic coming towards her. I was determined to help and save this life. She struggled to get away from my helping hand, not understanding.
I took off my sweatshirt, scooped the struggling, broken winged bird out of the dirty water it had made it's way to. Wrapped my arms gently around her, and prayed as I carried her home. And she was still. Sure she was scared, but she had surrendered to this place in my arms. She was still.
Once home, we gave her a comfy, cozy, abiding place. A place of rest. A little box, boundaries to keep her still and safe. She looked so incredibly peaceful here. That will forever be a picture to hold onto in our hearts, minds, souls.
We gave her the name Compassion. (aka: Orangey)We had compassion on her. Just as the parable Jesus told of the Good Samaritan, others walked by the injured man, and did not help, that is what happened in our story. A lady came out of her home, looked, and told me "I just cannot do anything. That would be too hard for me". Compassion welled within me, there was nothing else for me to consider but to help this injured life.
We attempted to get her to the Audubon Society in hopes she would be rehabilitated. Due to landslides this week the place was closed. I received an email late in the evening, of another facility, a 24-hour animal hospital, that would take her. We had planned to get her there in the morning, if she would make it until then.
Sadly, we awoke in the morning, and she had passed away. We were heart broken. "There is a time for everything, and a season for every activity under the heavens: a time to be born and a time to die." Ecclesiastes 3:1-2
Then the Lord, gave me a wonderful picture. A real life picture for us. He would use this bird as the scripture says … "look to the birds, they will teach you…" and "apply my heart to what I observed, and learn from what I saw" Proverbs 24:32
We wanted to save her. We wanted our experience to be like the video we watched of another mother and son who rescued a bird with a broken wing, prayed – God healed it, and it flew off as they rejoiced. That wasn't our story. We have another story.
A real life picture of our struggles and God's great gift of Compassion for us.
Like this bird, broken, confused, not sure which way to go, covered in the dirt, thus is the human race because of sin. We try to go our own way, when God's loving hand is reaching out to offer help. As we were determined to help this bird, offer compassion, care, protection, safety and rest, it is the same with God for us.
It is the Christmas season. God sent this bird into our lives for a purpose. To teach us. To show us His great gift of Compassion.
For God so loved the world, He sent His only Son on Christmas to come into this broken world to save… and those who are scooped up out by His loving hand, receiving His gracious gift of Compassion that reached down from heaven, through Jesus coming to be broken on a cross in our place, removing our sin, for those who come to Him, He gives rest. "come to me all who are weary… I will give you rest…" Matthew 11:28
Even when we come to Jesus, we still face struggling on this journey through life. We had placed "Compassion" in a place of rest. She was still in pain, but we were with her through it. Peace resonated in her. Even caught her napping with her little head tucked under her good wing. Though trials we still endure, we are now safe in His care, within His boundaries of comfort, protection, love. The boundaries of His Words that keep us right where He says to be in our daily living with Him. As we did speak words quietly to her. So God's Word is a gift to do the same for us. As we abide in His rest. Assurance of Salvation, and His care even through the still yet painful times of this life, we can be at rest. As I prayed for her as I carried her in my arms towards home, we are assured Jesus carries us daily and is praying for us every single minute until we are home with Him forever.
How many times do I resist this gift of rest? I confess, I still struggle with rest. As I grow in my years of walking with Him, He shows me the ways in which I struggle against His very compassionate hand on my life. Even this week, realizing I was resisting His hand, struggling against the peaceful place of rest He was offering me. Once surrendered, in His gracious arms of love (as the bird in my arms) I am at peace again.
God will care for us until our very last breath (just as He did – and we did for this very special bird.) Yes, we want to just pray, be healed, and fly off into bliss. Just as we wanted for this bird. Sometimes that happens now. Sometimes we wait. God had another plan for this bird. He would care for this life right here in this place, still in difficulty, but also given rest. There are difficulties, pain that doesn't just go away, get healed, but He is always with us, compassionately loving us until our very last breath. We know whether now or in eternity, we will be fully healed and complete.
Our Father in Heaven reminds us also, He is preparing that forever comfy, safe, warm, place for us in eternity. "He will wipe every tear from their eyes. There will be no more death or mourning or crying or pain, for the old order of things has passed away." Rev. 21:4
We are thankful for this bird-for Compassion. She was created to sing His praises. The Varied Thrush. My youngest son knew immediately what kind she was.  After all we have been studying birds for the past 1 1/2 years as a family.  A simple gift of a feeder in our backyard ignited a fire inside myself, husband, and both our boys to learn more about God through His glorious creation of birds.  The beautiful discovery made about the Varied Thrush? She is recognized among the many song birds with an extra special and beautiful "song" God gave her. She was created to praise Him. "praise the Lord…wild animals…flying birds.." Psalm 148:7-10.
All creation created to worship the King. Let us sing! Praising our God and Father who has compassionately loved us through Jesus Christ the Lord!
We wanted to give "Compassion" a proper good-bye. To honor the gift God has given us. Our Christmas gift of Jesus. Our Christmas gift of this beautiful bird to touch our lives and remind us of our Compassionate Heavenly Father through all times.
I was so pleased that in spite of the  tears and  sadness, little brother maturely went out to dig a place to lay her body to rest, as big brother looked on in support.  When  finished, my youngest gathered us together and led us in a prayer. Thanking God for this gift of life. Even though our time with her short, it would be rich in how the Lord, through her, touched our lives forever.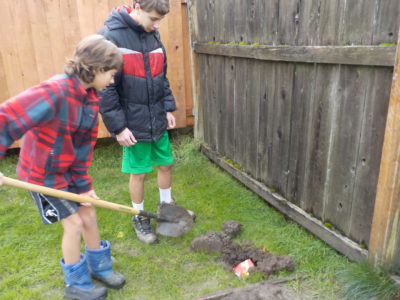 We pray you receive God's great gift of compassion. Jesus Christ coming to save. We pray you know how much the Father loves you! Merry Christmas! "not one sparrow falls to the ground is forgotten in God's sight… So don't be afraid; you are worth more than many sparrows." Matthew 10:29-31
"The Lord is good to all; he has compassion on all he has made….the Lord is faithful to ALL His promises and loving toward all he has made." (Psalm 145:9,13, 17) – "Praise be to the God and Father of our Lord Jesus Christ, the Father of compassion and the God of all comfort.." 2 Cor. 1:3
LIVING AND LEARNING IS A BEAUTIFUL GIFT FROM GOD.
Through this experience we dug into the WORD, applied it to our lives.  Boys documented much of what I wrote today, in their personal bible study journals.  Not only did we learn more about the Varied Thrush, we grew closer to one another and Jesus!
"But grow in the grace and knowledge of our Lord and Savior Jesus Christ. To him be glory both now and forever! Amen." 2 Peter 3:18