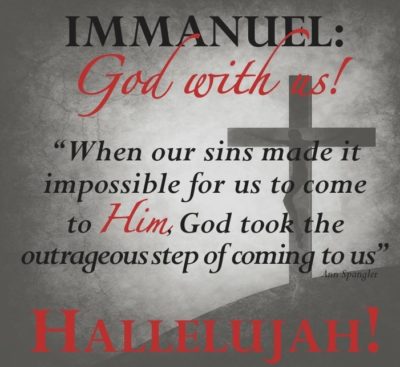 Jesus died alone bearing the burden of all sin of all the world on His soul. Because He suffered alone, no one else need ever be alone again. "be content with such things you have: for he has said: I will never leave you nor forsake you." (Heb. 13:5).
The Apostle Paul, suffering alone in a Roman dungeon shortly before his execution, could still say "The Lord stood at my side and gave me strength, so that through me the message might be fully proclaimed.." 2 Tim. 4:17. John the beloved, old and imprisoned on the tiny isle of Patmos, nevertheless "was in the Spirit on the Lord's day" (Rev. 1:10) and then saw the Lord in all His glory!!
So it has always been with those who know the Lord, for He is there, even when all others have forsaken them and He understands. He is there, when He calls us to these "places". It may be truly and literally all alone or away from what the masses of even  Believers are doing, and alone in our work where God has us- we are never alone.
Paul's faith was that in this place "the message might be fully proclaimed". God accomplished exceedingly abundantly through both these men's examples. I marvel how the glory of God came to John to give visions and write the book of Revelations. The very BOOK that would BE A COMFORT to future Believers like me. To think God was thinking of me and all the many Believers to come in these very moments of John writing.
Light was being exercised in this seemingly dark place. He saw the Lord in all His glory as He wrote, giving us the pages of Revelations and encouragement to keep fighting the good fight for…"no more fears, pain, tears, sorrow.." everlasting life worshiping in His beauty and holiness, the King is coming!!
And I consider and God challenges me – how in the places He calls me to whether it be literally alone, emotionally alone, set in circumstances I feel alone in, set in a place with less and yet more time to be just in nothing but the presence of "God stood with me" and "was in the Spirit" – I consider how God is sovereignly orchestrating this place He has called me to so "that through me the gospel message might be proclaimed".
Afterall God works all things together for good, and His greatest good is Salvation. We might not understand the places we are in, but as Believer's in Christ we are filled with His Spirit, and we are also ambassadors of Christ – "We are therefore Christ's ambassadors, as though God were making his appeal through us… 2 Cor. 5:20. These two men, were not in blissful places experiencing the glory of God, but rather alone and in great difficulty experiencing the glories of God.
Ambassadors of Christ – God revealed through them His glory, truth, and ever important message of hope and salvation. I am encouraged that as I too am an ambassador of Christ – He too is working out an exceedingly glorious plan to proclaim a message that in my own eyes I may not see how any message would be proclaimed through this very circumstance… yet I reflect again.. John… was on a deserted island with nothing but JESUS!!!!
Who would have imagined such TREASURE would come from such a place? Glory to GOD!
May our lives, in our circumstances, give hope and encouragement to even perhaps future generations. Jesus has already been there ahead of us, "in all points tempted like as we are, yet without sin. Let us therefore come boldly unto the throne of grace, that we may obtain mercy and find grace to help in time of need." (Heb. 4:15-16).
Let us remember: "Christ Jesus who died—more than that, who was raised to life—is at the right hand of God and is also interceding for us." Romans 8:34
He is with us.  Merry Christmas!  "IMMANUEL" – GOD WITH US!