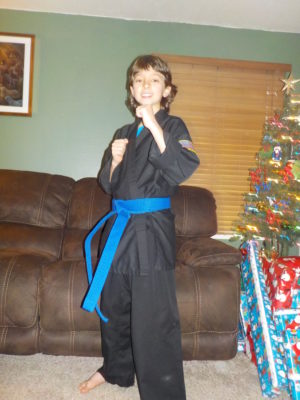 With every word of God to carry him onward- VICTORY!
Blue!
Courageous. That he is.
With the extreme energy inside along with the wiring of heightened sensitivities to everyday living – he chose to persevere and not give up.
GROW. WAIT. IN GOD's TIME. WORK HARD. PLEASE JESUS. TRUST. FIGHT. LISTEN. FOCUS. FIX EYES AND MIND. BELIEVE. FEAR NOT. I CAN.
So many to list of scriptures to saturate his heart, mind, and soul. Focusing on His Reward – JESUS!
He believes in Him as his Savior. Child of the King.
At home, we worked repetitively on mindset, the Word, coping skills, scenarios on dry erase board to prepare each week for class. In class covered in love being taught the skills needed to advance in Karate/self-defense. Skills overall that are growth for his entire life – most important- His walk with Jesus!
Through this waiting he has grown in daily life! This energy inside it is a gift! This verse in this translation so pertinent for this boy:
" … I strenuously contend, strive, with all the energy Christ so powerfully works in me."
Col. 1:29