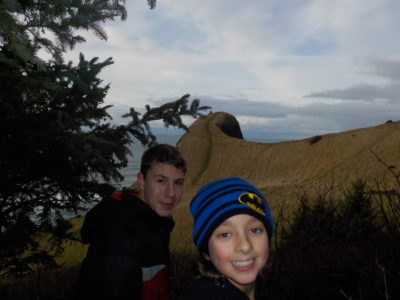 WE MADE IT!!!! The last few years God has taken us to a Christmas cottage by the ocean. God's LOVE so deep, far and wide. His thoughts of love for His children more than the sands.
And on this Christmas Day, He brought me out of a miry pit and set my feet upon a ROCK, established my steps…
from a month of much fatigue & pain, and telling our boys how we MUST be thankful in all circumstances and always DEPEND ON JESUS… I received the Christmas miracle of STRENGTH AND ENERGY!!!
An unplanned GREAT, GLORIOUS ADVENTUROUS JOURNEY – a hike LIKE NO OTHER FOR US!
Through muddy inclines, slipping and falling down… and getting up and determined to get to the destination we heard was so worth it…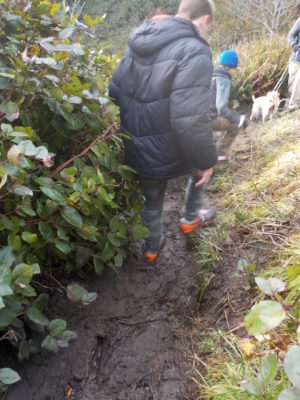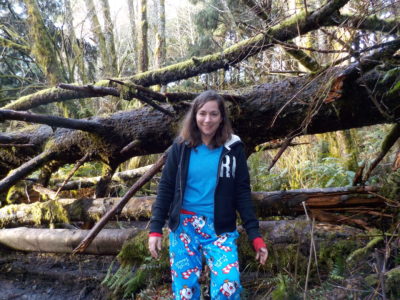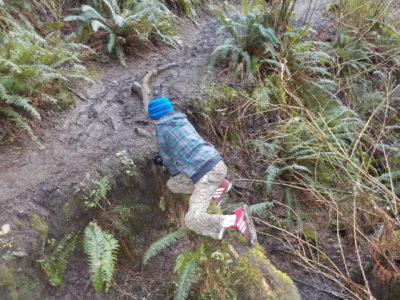 TO SEE what the locals call THE THUMB OF GOD!!!
I praise HIM for lifting me up out of the miry clay again and again and lifting us upon the ROCK OF JESUS! THIS WAS THE BEST CHRISTMAS CELEBRATION WITH MY FAMILY – such a great reminder of God's GRACIOUS LOVE as we press on, lifting each other up and keep moving to our destination – the kingdom forever. We met some strangers along the way, chatted, encouraged and rejoiced together when we made it!!!  Oh how we will rejoice the day we arrive at our eternal destination with JESUS forever!!!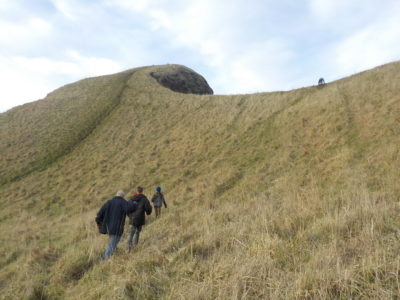 "He also brought me up out of a horrible pit,
Out of the miry clay,
And set my feet upon a rock,
And established my steps.
 He has put a new song in my mouth—
Praise to our God;
Many will see it and fear,
And will trust in the Lord."  Ps. 40:1-3
I think it is pretty amazing how God works on our hearts in His faithfulness.  Not sure how many surrenders I've done in this walk with the Lord… but this month has been a process of that again… as I walked alone the other evening, perfect songs came chiming in… the perfect words and declaration again to the surrender God is calling me to. Surrender, purpose, refreshing of vision, and declaration of commitment to a DEEPER DEPENDENCY on CHRIST ALONE in all circumstances – it "ALL" matters – GOD IS GREATER!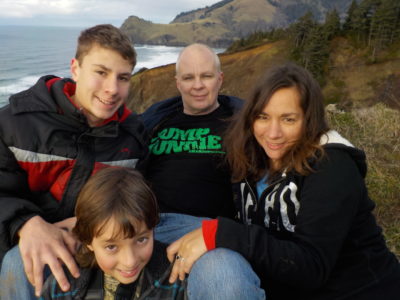 "Lift My Life Up"
You brought me this far so why would I question You now
You have provided so why would I start to doubt
I've never been stranded, abandoned or left here to fight alone
So I'm giving You control
I lift my life, lift my life up
I give it all in surrender
I lift my heart, lift my heart up
You can have it forever
All my dreams, all my plans
Lord I leave it in Your hands
I lift my life, lift my life up
Have Your way in me
Have Your way in me
If peace is a river then let it sweep over me
If I'm under fire I know it's refining me
When I hear You calling out I follow now wherever the road may go
I know You're leading me home
"Magnify"
Take it all, take it all away
Magnify no other name
Open up, open up my eyes
To you
Take it all, take it all away
Magnify no other name
Open up, open up my eyes
To you
My sight is incomplete and I've made you look small
I've been staring at my problems for way too long
Re-align where my hope is set, until you're all that's left
But just a glimpse draws my heart to change
And one sight of you lays my sin to waste
I don't need to see everything, just more of you
Take it all, take it all away
Magnify no other name
Open up, open up my eyes
To you
Oh God, be greater, than the worries in my life
Be stronger, than the weakness in my mind
Be louder, let your Glory come alive
Be magnified
BE MAGNIFIED!!!!!