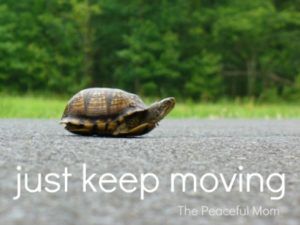 It's one great thing to have "an" understanding of the Sovereignty of God in my life. When it's our children, we see grasping this truth in their own lives – THAT BRINGS SO MUCH JOY INEXPRESSIBLE.
Let's talk about God's creation of Tortoises! It can take a tortoise 5 hours to walk one mile. Methodically they move. One orderly systematic step at a time.
We live in an age of speed. To us, faster is better. It is not so with God. God is not impressed with speed. Ecclesiastes 9:11 tells us that "the race is not to the swift". God looks at those who will walk with Him, carefully, deliberately, loyally, faithfully, all the way. Going from strength to strength (Ps. 84:7) from one degree of glory to another (2 Cor. 3:18). Little by Little! As in Exodus 23:29 -30 and Deuteronomy 7:22 – God had a plan, but specifically said it would not happen in a year, it would be a gradual, and effective process taking longer. It was for the best this way.
I love this spiritual application for my children. For their walk with God. I also love how God has used the "little by little" in our own lives with these two boys, to drive us to this very truth to hold onto for every goal they have ever met or continue to reach for. We have believed these things for our boys. And God brings them to their own belief as we see them rest in the Sovereign plans of God. They work heartily to please the Lord. Content and trusting in Him, where He has them. The One who created them for His purpose. Wonderfully created in the womb, God already knowing the full plan, and every single day the pace they would walk onward towards Him. (Psalm 139)
As the tortoise, is one of the slowest land animals, created with a purpose – methodically going at his set pace by God's design, towards the goal, little by little, he makes it.
God is pleased with a diligent, persevering character who trusts in his timing as well as His way, His plan. In His time He makes all things beautiful (Ecc. 3:11)  He has a plan and it is good.  As the turtle methodically carries onward, we have seen the unique and special ways in which God has called us to direct our children.  Through special ways, our own methods, etc… to help them thrive the way He designed them to thrive.  It might be different than others, the societal norm, but it is perfectly how God had planned them before the foundations of the earth.
The turtle continues on. Persevering doesn't mean he musters up something EXTRA to pick up the pace and go faster. That's not how God made him. HE just keeps on keeping on.
And that isn't how God designs His most precious creation, human life. His plan is for his children to persevere, keep moving forward, little by little and EVEN LITTLER AND LITTLER steps for some children. I see that in our boys. As God provides strength to more strength to meet those goals set out for them – the earthly goals in the here and now, but ultimately the goal that is at the forefront of their hearts, minds and souls – the pilgrimage to JESUS forever.
Who we believe in and is working step by step to accomplish in us way more than we could ever imagine. (Eph 3:20-21) To Him be the GLORY!  And right on time!
However, I consider my life worth nothing to me; my only aim is to finish the race and complete the task the Lord Jesus has given me—the task of testifying to the good news of God's grace. Acts 20:24
"I have fought a good fight, I have finished my course, I have kept the faith" (2 Tim 4:7)