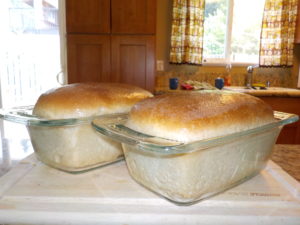 Then Jesus declared, "I am the bread of life. Whoever comes to me will never go hungry, and whoever believes in me will never be thirsty."  John 6:35

I started making my own bread a couple months ago.   I never would have imagined getting to a place in my life where I could commit to weekly making bread, whipping up Turmeric Golden Paste to keep in our refrigerator, as well as  many other items I bake, and things we prepare and do rather than purchase packaged and processed.
I am so grateful to God for giving me strength and energy these days, He has truly been healing me. It is a JOY to be near our boys while they are working away at math or language arts at the table while I am mixing up another weeks worth of bread.  God is good.
My husband took this bread to work and a few people have really enjoyed it and have requested the recipe.  I took a recipe off an old flour bag and tweaked it and made it a bit different.
The results have been great.  As my husband's words for it:  "it's like the Lord God Almighty sent you the recipe from heaven above and then as you are mixing the dough He reaches out His hand and places it on yours while you mix away together".
My guys LOVE this bread.  And while not every loaf is a so called success a funky looking loaf a time or two – it always tastes great.  Not sure what happens to make it go apparently wrong on some batches, … but hey, you know… that's just life.   And most of the time I get loaves that look and taste like the ones I baked tonight, as shown in the picture.
Here is the recipe.
How Sweet It Is John 6:35 Bread
1 Cup Warm Water (container-warm, but not burning hot-info. on yeast packet for temp.)
2 1/4 tsp Active Dry Yeast (one packet)
1/2 tsp  organic sugar – I have made it without the sugar. It can help activate the yeast.
1 Cup Silk Coconut Milk (room temperature) I use the the cartons from the refrigerator section
in the grocery store – ORIGINAL
1/4 Cup heaping to a bit overflowing of  raw honey
2 TBSP Olive Oil
2 3/4 Cup All Purpose Organic flour (Unbleached, Unbromated)
1 TBSP  Himalayan Salt
2 3/4 Cup All Purpose Organic  Flour
Preheat oven to 350 degrees
In large bowl add water, sugar, and yeast. Let stand for about 5 minutes. If the yeast is activating correctly it will begin to foam a slight layer on the surface of the water.
In small bowl combine the room temp. coconut milk, honey, oil. Stir together. Pour into the large bowl with the yeast. Mix a bit. Add 2 3/4 cup flour and the salt. Stir until all flour is mixed in (will be lumpy). Add in another 2 1/4 cups of flour. Mix together again, until blended. The dough will be somewhat sticky. Prepare a cutting board and lightly dust it with flour. Use the remaining 1/2 cup of flour to work into the sticky dough on the cutting board – little by little adding a bit as you go. Begin to knead the dough, working in the remainder of this flour. And continue kneading for about 8 minutes.
Oil a large bowl with olive oil. Form the dough into a ball and place in bowl. Cover with a towel and place on top of stove for about an hour. Or until the dough is about double in size.
Thoroughly oil two loaf pans from top to bottom with olive oil.
After dough has risen, carefully with fingers, divide the dough in the bowl in half down the middle. Pulling with hands to part the dough. Take 1/2 of the dough and lay on a very lightly floured surface. Begin to tuck the dough into a loaf shape. IF dough is sticky you can add a dusting of flour on top as you work the dough and seal it with a seam on one side. Then do the same with the second 1/2 of the dough.
Place these into the loaf pans. Cover with a towel/cloth. Place on stove top again. Let rise for an hour.
Turn oven up to 425 degrees. Place the pans in the oven and then immediately turn the temperature down to 375 degrees. Bake for 24 minutes. (that's how long it takes in my oven). Until the top is medium golden brown. And when you tap on the top it sounds hollow.
Remove from the oven. Brush with butter. Use a knife to go around the edges to loosen. Turn over onto a cutting board and let cool. And well… if you are like us here at the Sellars' house, you will be slicing immediately while it is still steaming hot, smothering with butter and indulging in deliciousness.
ENJOY!
And I pray you know the true bread of life… JESUS!  For as He also said:  "man shall not live by bread alone, but by every word that proceeds from the mouth of God."  Matthew 4:4