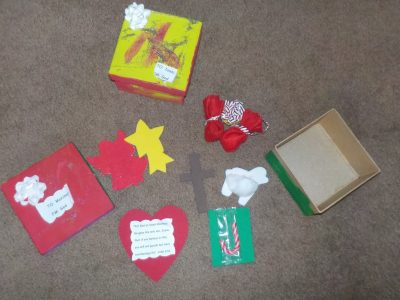 THEN AND NOW… TREASURE EACH MOMENT WE ARE GIVEN. I never would have imagined this project we did together when they were little would be used all these years later for a beautiful writing assignment for Christmas. Beautiful writings that reflect, with God all things are possible. Reflect in simplicity the understanding of the MOST important eternal things… THE MOST beautiful gift EVER-knowing JESUS. Motherhood is a gift. A miracle from God. Motherhood started for me with not even knowing if I would bring my baby HOME to have another day, after his traumatic birth, life support and stroke. We have been GIVEN the miracle each day for 15 years with him AND his little brother. Every day IS A BLESSING – no matter how difficult or not. Treasure each moment we are given. Invest in the Kingdom.
When the boys were little the Lord put on my heart this craft idea.  A way to give them a keepsake visual of the story of Christmas.  Each their own box labeled:  TO: Isaac, Max  FROM:  God.   Our firstborn son, had a stroke before he was born.  For a long time there was a lot he didn't understand.  I was determined to point him, along with his little brother to the Savior in any and every way possible.
I wanted them to understand this Christmas story is personal for them.  That they each need Jesus.  That God was specifically thinking of them, before they were ever created when He sent the Savior.  For a few years these boxes somehow got lost in the shuffle of putting away decor at the end of the season.  I am so excited to find them again this year!  I really wasn't planning on doing anything with them, except sitting them under our little tree for reflection.
This morning I awoke, seeking God of how to go about our school for the day.  Hoping to have the focus on Christmas.  I have been recently focusing in on writing assignments for our boys.  This morning, the Lord took my eyes to those precious gift boxes from a few years back as I  realized we could use them again today!  Using the visual cues inside the box, along with 3×5 word prompts, each boy sat down to write their own story of Christmas.  Amazing how there is the similarities of course, with the truth of the scriptures, but also, their own SPECIAL way they were led to write!  It is beautiful to see.  I believe in miracles!  The miracle of the Savior.  The miracles God keeps doing in our lives.  This was their greatest stretch and effort they have extended  in putting together a written work. It might seem simple.  But it is truly profound.  And it ONLY gives me great hope that we are onto something that is only going to increase!! Might I say how beautifully intent and focused they were??!!  There was once a time this was not.  Give these guys time. Writing in the simplest form has been difficult for our oldest.  I am so blessed by God's gracious gift of Jesus.  Relationship with Him and our family.  Seeing Him overcome in weakness.  Seeing him take little boys, and overcome obstacles.  Seeing him take all of us, willing, and overcome!
How beautiful to see this little box of goodies would be used now in their life to reveal so much to my heart.  Please know, that while home schooling is difficult.  It is ALWAYS a blessing.  The joy and the journey is a work of JESUS in the hearts of the whole family.
The story, and a way  I told it to them when they were 6 and 8:
THE GREATEST GIFT EVER – OUR SAVIOR – JESUS
Angel – appears to Mary and later shepherds – Luke 2:9-13
Sheep – Reminds us of the Shepherds.  Their eager response to visit the King.  Their eager response to tell the world. – Luke 2:15
Star – Follow the star to Jesus.  – Matthew 2:20.  Follow Jesus the Morning Star – Rev. 22:16
"J" – Candy cane upside down – Jesus is born!  Luke 2:7, Isaiah 9:6.  Red: The blood He would shed on the cross for our sins.  White:  our sins washed away, white as snow.
3 Gifts – Wise men traveled a long journey to bring gifts to the King. Gold, frankincense, Myrrh.  Matthew 2:1-10
Cross- Jesus came as a baby into the world, grew in wisdom and stature.  Died for sins.  Luke 2:25, John 3:16
Heart – God loves me – John 3:16
Empty Box – Empty tomb.  Jesus died and rose again!  "He is not here; he has risen, just as he said. Come and see the place where he lay."  Matthew 28:6
The story they NOW, in their own words tell and live, 7 years later!!
The Christmas Story – by Maximus
Before I was born God sent a Savior to save people from their sins.  God loves me so much that he gave His one and only Son.  That first Christmas, Jesus was born lying in a manger.  The angels came to the shepherds, sang songs, and told them a new King had come to this world. Jesus is like our shepherd.  Whenever we wander somewhere else, He will bring us back.
Wise men from afar followed the shining star to see the newborn King.  They gave three gifts which were gold, frankincense, and myrrh.
When Jesus grew up, He went to the cross to take all the sin from those who will believe, so we don't go to hell.  When Mary Magdalene went to the tomb, she found it empty because He resurrected from the dead.
The things that Jesus did after He resurrected were preaching, eating breakfast and talking with His disciples.
When I was born in a hospital I didn't know very much yet.  I NOW know God's wonderful works.  I believe that Jesus is my Savior, my Helper, my Hero.  I am filled with the Holy Spirit so that I can preach, help and tell about God's truth.  I live for Him to give Him glory by whatever I eat or drink or whatever I do.
He is preparing a place for me and whoever believe in Him will go to that place, and that place is called… heaven.
____________________________________________________________________________________________________
THE STORY OF JESUS – by Isaac
Before I was born God sent a Savior who loves me.   That first Christmas God sent angels to the shepherds to tell that the newborn King has come.  God gave the wise men a star to follow because they were in a faraway place.  Jesus was born in Bethlehem.  The wise men arrived later to Bethlehem and gave  Jesus gifts called gold, frankincense, and myrrh.
Later on when Jesus was a grown man He was crucified on the cross.  He was buried in a tomb and three days later He resurrected from the dead.
Jesus stayed down on the earth for forty days with His disciples and walked with them.  He went back to heaven.  Years later I was born.  I now believe in Jesus and I"m filled with His Holy Spirit.  Now I am living for Him and I know He is preparing a new earth for me.
(we know that those who have received Him as Lord will enter heaven. Where He is preparing a place for them.  And one day heaven will be brought down into a NEW EARTH where we will dwell, free from sin and full of beauty forever)
"See, I will create new heavens and a new earth." Isaiah 65:17