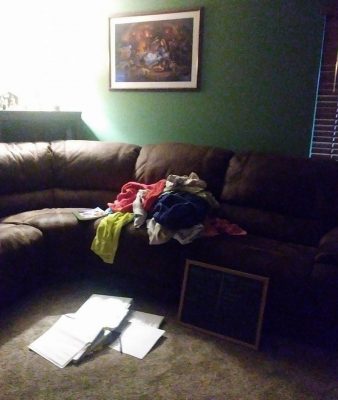 Remnants on a chalkboard of yesterday's teachings on sanctification – life before Christ, life after accepting Christ…
Note books of last night's attempt to plan for today, too tired to finish, it's still here eagerly greeting me.
Along with a pile of laundry as I see in it the faithfulness of God to be HERE to care for this family +  one more this past year.  My beloved Mother-in-Law.
A family advent story book, that we evidently started too late to finish by Christmas, we will finish in the New Year!
Nativity picture above of the King of Heaven, coming to serve in order to save. Humble, gentle, servant.
This is life!
And Look at the LIGHT that is shining down on it all!
And a song on my heart!
That's how you change the world… This season THAT WORLD, not limited to, but ultimate focus is HERE. THIS WORLD. Within these hearts. Right here next to me… As we grow, they grow, we take this OUT with us into the WORLD.
I know the battle. Because I live it. The draw to be busy in the minds, activties, endeavors. Sucking energy away from the very WORLD we are called to LOVE – HERE. He is faithful, and increases my understanding. As He disciplines me, lovingly, and puts me right where He wants me to be. His WAY is beautiful!
It's the kind words
A simple smile
More than showing up
Going the extra mile
It's giving everything
When you've got nothing left
Sharing a little hope
With a single breath
That's how you change the world
All my life I had big dreams
To do big things and make a change
And all the while I just passed by the simple needs
Right here next to me
'Cause there's a breaking heart
That's falling apart and tear-filled eyes
Looking back at me
God, won't you help me to see
It's a prayer in an empty room
Little things we do when nobody's around
A hand reaching out
To a heart in doubt
It's the smallest spark
That can light the dark
That's how you change the world
A million little drops of rain
Can be enough to cause a tidal wave
A flood of your love that no one can contain
'Cause there's an empty soul that wants to be known
Around me now that I can lead to you
Revealing love that won't refuse
THAT's HOW YOU CHANGE THE WORLD… (by Newsboys)
So that our children are equipped, that God would shoot them out … to make a change.
"Behold, children are a heritage from the Lord,
The fruit of the womb is a reward.
Like arrows in the hand of a warrior…" Ps. 127:3-4
ALL WHILE THE SAVIOR is CHANGING ME!!!!!!!!!!!!!!!!!!!!!
"A wife of noble character who can find?
She is worth far more than rubies.
Her husband has full confidence in her
and lacks nothing of value.
She brings him good, not harm,
all the days of her life.
She speaks with wisdom,
and faithful instruction is on her tongue.
She watches over the affairs of her household
and does not eat the bread of idleness.
Her children arise and call her blessed;
her husband also, and he praises her:
"Many women do noble things,
but you surpass them all."
Charm is deceptive, and beauty is fleeting;
but a woman who fears the Lord is to be praised.
Honor her for all that her hands have done,
and let her works bring her praise at the city gate."
From Proverbs 31