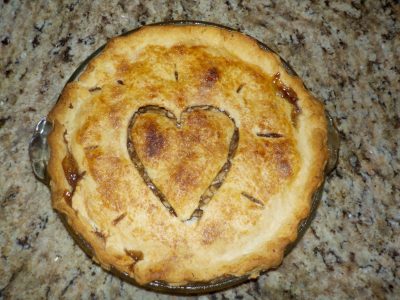 It's Fall.  An easy crock pot dinner, which means time and opportunity for wife and mama to put her love and energy into blessing her family with apple pie.
Isaac watched and wondered why the "heart?".   Immediately after those words, he saw the look on my face and said, "I know.  You have something biblical to share to go with this pie don't you?".
After sharing with him, that this heart is a symbol of LOVE.  That I made this pie for the people I love.  The heart is a way to express that love, I decided to go further and yes… make it into an evening devotional time.  Great idea Isaac (he was actually ahead of me on that one).
How sweet it is!  Abide in Him.  Without Him I can do nothing.  I recently immersed myself into the pages of John chapter 15 again.  Reminded of the minute by minute walk with the Savior, in obedience, in prayer, in recognizing His grace each step of the way in each day.  Savoring the time with the Savior and the blessed call as wife and mother.  God's grace today, through an evening of apple pie baking.  Look for the GRACE and EMBRACE what God is lavishing each minute of the day.
~LOVE ~
"If I speak in the tongues of men or of angels, but do not have love, I am only a resounding gong or a clanging cymbal.  If I have the gift of prophecy and can fathom all mysteries and all knowledge, and if I have a faith that can move mountains, but do not have love, I am nothing.  If I give all I possess to the poor and give over my body to hardship that I may boast, but do not have love, I gain nothing.
 Love is patient, love is kind. It does not envy, it does not boast, it is not proud.  It does not dishonor others, it is not self-seeking, it is not easily angered, it keeps no record of wrongs.  Love does not delight in evil but rejoices with the truth.  It always protects, always trusts, always hopes, always perseveres.
 Love never fails. But where there are prophecies, they will cease; where there are tongues, they will be stilled; where there is knowledge, it will pass away.  For we know in part and we prophesy in part,  but when completeness comes, what is in part disappears.  When I was a child, I talked like a child, I thought like a child, I reasoned like a child. When I became a man, I put the ways of childhood behind me.  For now we see only a reflection as in a mirror; then we shall see face to face. Now I know in part; then I shall know fully, even as I am fully known.
 And now these three remain: faith, hope and love.
 But the greatest of these is LOVE"  
1 Cor. 13
LOVE IS…  doing what we know is right, even when we don't feel like it. It's remembering Jesus on the cross. Who died to save me.
The night before He went to the cross, He dreaded the cross before Him. Afraid, worried, and knew agony was on it's way.  Beaten, bruised, bloody, crying and struggling to breathe.  Mocked, spit on, shamed, rejected.  The whole sin of the world, God's wrath upon Him. The Father turned His face away.  Alone!  Jesus alone!  A Holy Father could not look upon the Son who was covered in my sin and shame.  Jesus showed the GREATEST act of LOVE.
So is love always a FEELING?
NO.
What can we remember about LOVE?
WE CHOOSE IT.
The GREATEST ACTS of LOVE happen when it is the hardest thing for us to do, yet we do it, out of obedience to the LORD.  Jesus submitted to the Father's  will.  He WENT.  IN LOVE. To the cross.  Produced the GREATEST GOOD that ever will be.  Life forevermore! God's power raising Jesus back to life.  He went through it.  All for LOVE.  Knowing for certain the glory that awaited.
As we offer acts of love, no matter how difficult, we have the blessed assurance, there is glory waiting on the other side.  To Him be the glory, in ways we may never know until eternity.  His love.  His power.  He produces life!
So now, each day, because of what God has done for me,  I get to learn & grow in LOVING God and LOVING others.   As Christ loved me. Obeying the Father.  I learn to die to myself, and CHOOSE to LOVE.  Believing in Christ's power that WILL produce LIFE.  Above and beyond in ways I can not even imagine.  For His glory.  For His kingdom.
And that's what an apple pie baked with love for my family means to us.  God's love that never gives up on this family.  God's power that has overcome time and time again.  God's LOVE that called me to be in this SWEET place called home, many years ago.  When it seemed impossible financially, emotionally, physically, all these years with our children, His power and love has overcome.  God's power making LIFE happen.  His LOVE covering our sin and weakness. Dying to our fleshly ways, and continually being resurrected to LIFE in HIS POWER and LOVE.
~LOVE IN ACTION~
 "Love must be sincere. Hate what is evil; cling to what is good.  Be devoted to one another in love. Honor one another above yourselves. Never be lacking in zeal, but keep your spiritual fervor, serving the Lord.  Be joyful in hope, patient in affliction, faithful in prayer. 13 Share with the Lord's people who are in need. Practice hospitality.
 Bless those who persecute you; bless and do not curse.  Rejoice with those who rejoice; mourn with those who mourn.  Live in harmony with one another. Do not be proud, but be willing to associate with people of low position. Do not be conceited.
 Do not repay anyone evil for evil. Be careful to do what is right in the eyes of everyone.  If it is possible, as far as it depends on you, live at peace with everyone.  Do not take revenge, my dear friends, but leave room for God's wrath, for it is written: "It is mine to avenge; I will repay," says the Lord.  On the contrary:
"If your enemy is hungry, feed him;
    if he is thirsty, give him something to drink.
In doing this, you will heap burning coals on his head."[c]
 Do not be overcome by evil, but overcome evil with good."
Rom. 12:9-21
LOVE IS…
SINCERE.  GOOD.  DEVOTED.  HONORING OF OTHERS.  ZEALOUS FOR GOOD WORKS.  SERVING.  JOYFUL. HOPEFUL. PATIENT IN AFFLICTION.  BEING A PRAYER WARRIOR! SHARING AND CARING.  DESIRING TO BLESS.  HARMONIOUS.  HUMBLE.  ON THE MISSION TO OVERCOME EVIL WITH GOOD.  TRUTHFUL.  HOPEFUL.  DETERMINED. KIND…. and SO MUCH MORE…
LOVE IS JESUS!
Who calls us to repent of our sins and RECEIVE His gift of life forevermore.
Love is His commandments.  Love is obeying Him.