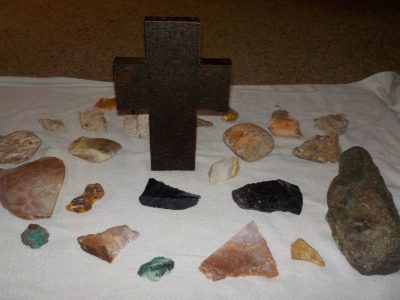 Been so blessed to glean from brothers and sisters and Christ in my walk with Jesus.   In my desperate desire to know His ways, others speaking the truth to me through God's love and faithful word.  In home schooling and snagging ideas, and visions here and there, to add to the building of our academics,  relationships, and more.  He has placed a person here and there, to speak truth, encourage, and be that nugget of gold, precious stone to lead me in the way everlasting.  I am grateful.
Recently a dear friend of ours, gifted our boys with these beautiful stones.  Today, I was able to present a wonderful message of being Living Stones under the headship of Jesus the Chief Cornerstone.
In this picture we see varying stones.  With the cross the center of it all.  Each of us, chose a stone to represent "me".  The remainder of the stones, we agreed were varying brothers and sisters in Christ.
"you also, as living stones, are being built up a spiritual house." 1 peter 2:4-5
God is building His church.  All who follow Jesus according to His word, He calls living stones.
We visited a little virtual home school tour of how a real stone is transformed.
Each began with rough spots, and much needed cutting away necessary to bring about a shiny, perfect, complete gem.
This is the necessary work for my life, as well as for all my brothers and sisters in Christ.
HARDSHIP-DIFFICULTY-TRIAL-AFFLICTION-PAIN –
Words to describe the Christian life.  And with JOY.  The joy of what is to come.  With these words, like hardship, come words of immense promise.  God is faithful to continue cutting away all that is wrong so that Jesus will shine more and more in me. This work will continue until the day I meet Him, and I have been deemed perfect and complete.
"being confident of this, that he who began a good work in you will carry it on to completion until the day of Christ Jesus."  Phil. 1:6
The cutting away of sin is painful.  Going God's way and not my own is hard.  Suffering in pain and affliction, grueling.  God promises that any difficulty we go through will produce good.  And that the reward is beyond what I can imagine.  Immense pleasure and goodness forevermore.
 "For our light and momentary troubles are achieving for us an eternal glory that far outweighs them all." 2 Cor. 4:17
When it hurts, when the pain doesn't stop, we hold onto the truth "that in all things God works for the good of those who love him, who have been called according to his purpose."  Romans 8:28
Now Jesus, He is the Chief Cornerstone.  Each Living Stone Believer is being fit together and into a holy temple.
"with Christ Jesus himself as the chief cornerstone.  In him the whole building is joined together and rises to become a holy temple in the Lord."  Eph. 2:20-21
We are thankful that each one of His chosen living stones has an important and specific spot to be placed within this Holy building.  And the building would not be a building without the rest of the precious stones.
As Christ Jesus is building His church, He calls believers to also build up one another.
"Therefore encourage one another and build each other up.." 1 Thess. 5:11
~Another day in Schooling On the Rock Of Jesus~
I want to know Christ—yes, to know the power of his resurrection and participation in his sufferings, becoming like him in his death, and so, somehow, attaining to the resurrection from the dead.
 Not that I have already obtained all this, or have already arrived at my goal, but I press on to take hold of that for which Christ Jesus took hold of me. 13 Brothers and sisters, I do not consider myself yet to have taken hold of it. But one thing I do: Forgetting what is behind and straining toward what is ahead,  I press on toward the goal to win the prize for which God has called me heavenward in Christ Jesus.Following Paul's Example
All of us, then, who are mature should take such a view of things. And if on some point you think differently, that too God will make clear to you. 16 Only let us live up to what we have already attained.
 Join together in following my example, brothers and sisters, and just as you have us as a model, keep your eyes on those who live as we do.
Philippians 3:10-17