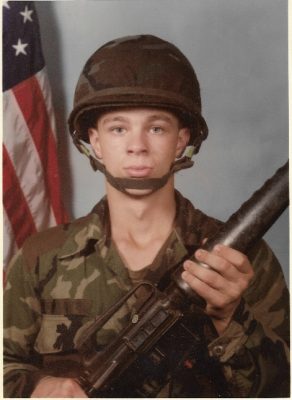 Today is Veteran's Day.  I think about sacrifice.  Our family will join together in a day of thanksgiving for sacrifices made for our freedom.  In our hearts honoring in gratitude the men and women who have served, fought, and are still serving for the freedom we enjoy daily.
Freedom comes at a price.  Sacrifice.  Understanding many have gone through bloody battlefields, death, trauma, loss, difficulty, and so much more for the cost of our freedom.
My husband served three years in the United States Army.  He was young.  Although he never went to war, he has shared how he recalls thinking if he was called to war, plain and simple, he would go.  Fear wasn't a factor, the call was there, the order given, he just matter of factly knew he would march into it because that is just what a soldier does.  He obeys and goes.
I didn't know him at this time in our lives.  I see how God was preparing this young man to be a spiritual soldier as my husband and as father to our two boys.  As a spiritual soldier, he understands Who his Commander is.  As he enlisted years ago into the Army of our Lord.
He sacrifices daily for the sake of our family.  Through the zillion ways he serves us.  As he is serving His Master Commander Lord and Savior.  He gives generously.  During difficulty.  During times of my own weakness, when he is tired, he offers more to me.  It is evident, under Christ, that "I" his wife, and our boys are his greatest treasures.  He equips the boys spiritually through the battles  of life.  Teaches, trains, and prepares them for life.
He is humble as well.  He wouldn't say any of this is a "sacrifice".   "It's just what "I" do."  Rather the way I see it, as he was matter of factly ready as a soldier to go into battle and simply do what he was called to do, he is the same in his position as a soldier for the Lord as husband and father.
Ultimately, I point to Jesus.  Who calls us into battle.  To die to ourselves, sin,  and live in spiritual sacrifice to Him.  Jesus the ultimate Sacrifice.  Saving sinners from death.  Giving it all because that is JUST what the LOVING GOD of the universe is all about.  Jesus went to the cross, and through the bloody battle, He won.  We are free.  Free from sin and free to live in newness of life. Under His command.
As our family reflects through a special dinner, dessert, teaching time, and movie night centered around our grateful hearts for this country God has blessed us with, as well as the people who gave so much for our freedom, those who continually still serve,  we also and most importantly will reflect on the ONE WHO gave it all so that we are free today, tomorrow and most importantly for all eternity.
My husband is my hero.  I yearned for a life living in HIS LIGHT and stepping away from the darkness, in serving the Lord in my home with our children.  It seemed impossible in every way.  Yet when it was time to enter into this call, my husband has labored and toiled and made every effort through some difficult seasons to keep me here in my call.  As I press on too, along his side, a soldier in the battle for what is right for our family.
I just think it is super important to reflect on sacrifice. Super important that we realize we have a high calling in a real battle to offer sacrifices daily.  While it may not seem like some "super hero" achievement, and while truly our SUPER HERO JESUS is the strength to give us the ability to keep moving forward in the battle daily, sacrifice is something as a Believer we are called to do daily.  The war against family, roles, and order by God's design is real, and incredibly important to God.  We may never go to the actual battlefield, but we know we are truly in a Spiritual Battle everyday against the enemy of hell.  We are thankful we know our victory is secure, because of what Christ secured for us on that cross.
So as we honor what we have been given today,  I thank God for  all my brothers and sisters in Christ, Who have been saved through the precious sacrifice of the Savior.  Who are soldiers in the call, in obedience to the Commander of heaven and earth. I hope and pray, others will find the TRUE SACRIFICE of LOVE through JESUS.  Understand the depth of the price He paid to give freedom, and enjoy serving for the KINGDOM to come.
 "But when this priest (Jesus) had offered for all time one sacrifice for sins, He sat down at the right hand of God,  and since that time He waits for his enemies to be made his footstool.  For by ONE sacrifice He has made perfect forever those who are being made holy.
Therefore, brothers and sisters, since we have confidence to enter the Most Holy Place by the blood of Jesus,  by a new and living way opened for us through the curtain, that is, his body,  and since we have a great priest over the house of God,  let us draw near to God with a sincere heart and with the full assurance that faith brings, "
Hebrew 10:12-19
"Therefore, I urge you, brothers and sisters, in view of God's mercy, to offer your bodies as a living sacrifice, holy and pleasing to God-this is your true and proper worship."
Romans 12:1
SOLDIERS FIX THEIR EYES on the COMMANDER's ORDERS
Hit rewind
Click delete
Stand face to face with the younger me
All of the mistakes
All of the heartbreak
Here's what I WILL NOW do differently
Love like I'm not scared
Give when it's not fair
Live life for another
Take time for a brother
Fight for the weak ones
Speak out for freedom
Find faith in the battle
Stand tall but above it all
Fix my eyes on You, on You
I learned the lines and talked the talk
But the road less traveled is hard to walk
It takes a soldier
Who knows his orders
To walk the walk I'm supposed to walk
The things of Earth are dimming
In the light of Your glory and grace
I'll set my sights upon Heaven
I'm fixing my eyes on You, on You